Namibia Rugby

News Report
Scintillating action
Author: Elizabeth Joseph, 24/07/19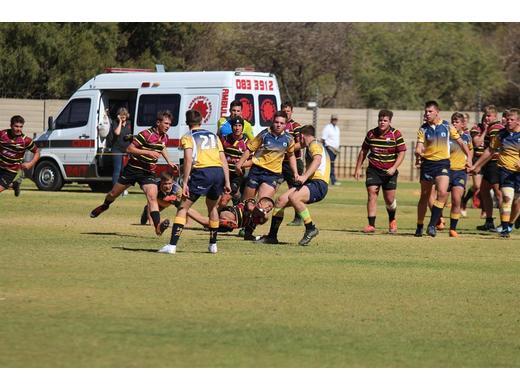 As the Momentum under-19 premier league rugby tourney reached the final weekend of the pool phase, the clash between KMC/JCC Windhoek Affies versus PSG Pro-Ed Academy at Affies Park attracted a lot of enthusiastic support for both sides.
As defending champions and contenders for the top spot, Affies stamped their authority on the match when they took a 13-0 lead within the first 11 minutes.
At halftime, Affies led 23-7 and eventually ran out 35-21 winners.
The home side took the maximum nine league points from the match by scoring more tries than the opposition (four against three).
Flyhalf Jeandre Loubser, number 8 Bernhardt Wessels (2) and scrumhalf Louis Karsten scored tries for the winning team, with Loubser adding 12 points via the boot. One conversion was kicked by Keanu Engelbrecht.
The result saw Pro-Ed finishing in sixth place and although they did not qualify for the super league knockout phase for the top five teams, the Swakopmund side still have a good chance of winning the Momentum U-19 A league.
WAP captain and flanker De Wet Oosthuizen was honoured in his 50th match for the first team, when he ran onto the field on his own, ahead of the kickoff.
Samsung Windhoek High School ended Rubicon Tsumeb Gymnasium's unbeaten streak, with a 46-20 win at the FNB Vegkop Stadium.
The Tsumeb team had the luxury of starting the match with some of their reserve players, which provided them with valuable game time ahead of the knockout phase.
Despite the loss, Tsumeb Gymnasium still finished in first position (66 points), followed by Windhoek Affies (65), Windhoek Gymnasium (60) and WHS (59).
During the quarterfinal weekend, WHS will be involved in a playoff match against fifth-placed Walvis Bay (50).
Pupkewitz Haval Elnatan travelled from Stampriet to take on Namib Diesel Walvis Bay Private High School (WBPHS) in Walvis Bay at Naartjies Park. WBPHS won 51-0, thereby getting themselves back on track following their disappointing and costly midweek loss against Pro-Ed (22-24) last Wednesday.