Namibia Rugby

News Report
WAP wins again
Author: Andrew Poolman, 10/08/19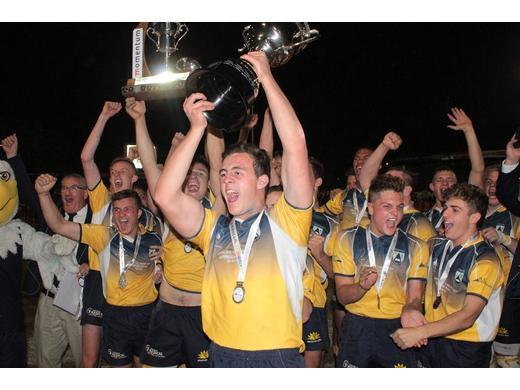 The Namibian schools rugby season reached a dramatic climax on Saturday night as KMC/JCC Windhoek Affies beat Tsumeb Gymnasium by 37-34 to retain the Momentum U/19 Super League trophy for the second year.
Tsumeb held a 15-9 lead at halftime, but spectators were treated to an action-packed second half in which both teams simply refused to back down. A TV referee decision was needed to confirm whether Windhoek Affies flyhalf Keanu Engelbrecht scored the winning try to overtake Tsumeb's lead of 34-30 in the final minute.
Engelbrecht's kicking boot was on song in the final, as he contributed five penalties and two conversions besides the winning try. Right wing André Siepker and scrumhalf Louis Karsten scored the other tries for Windhoek Affies, who won the first national U19 Super League title in the school's history last year when they beat Windhoek Gymnasium.
Tsumeb provided their travelling fans with full value as they delivered a stunning onslaught in their quest to win the first U/19 Super League trophy in its history. Their tough nr 8 and captain WJ Otto scored twice and prop Tinus van Wyk and flank Frikkie Engelbrecht one try each, while flyhalf Bothma Keyser kicked 14 points.
Keanu Engelbrecht was named the best backline player of the U/19 Super League final, and captain De Wet Oosthuizen was named best forward.
• The Super League bronze final was won by Schoemans Group Windhoek Gymnasium, who beat Samsung Windhoek High School 32-24. The U/19A league trophy went to OK Foods Moria Private School from Outjo, who prevailed in another tough contest against PSG Pro-Ed (35-30)