Namibia Rugby

News Report
Windhoek Gimmies triumph
Author: Elizabeth Joseph and Ester Kamati, 06/07/19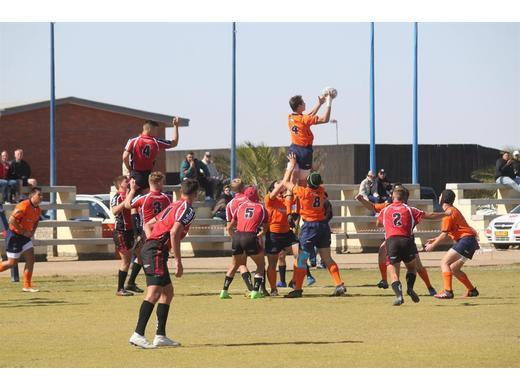 The Momentum rugby premier league was in full swing on Saturday as the under-19 rugby team of Namib Diesel Walvis Bay Private High School hosted Schoemans Goup Windhoek Gymnasium in another vital clash for league points.
There was a feast of emotion as the boys put their hearts and souls into their play, but there could only be one winner.
It was the Windhoek Gymnasium first team that triumphed by 24 points to 17. The visitors scored four tries against three to earn the bonus points on offer.
• There was also rugby action in Swakopmund, with the earlier kick-off time despite the chilled and misty weather, the first teams of Samsung Windhoek High School and PSG Pro-Ed Academy did not shy away from showing what they are made of on the rugby field.
WHS won an electrifying u-19 encounter 20-8. According to WHS head coach Henry Kemp the Swakopmund team really gave his boys a tough contest and could easily have ensure a win.
"I was particularly impressed with their commitment and organisation on defence … whenever any of our players went through a gap, they really scrambled well to close us down.
"We brought on a few replacements in the second half such as our regular captain Erik Strauss, who really made the difference for us.
"Pro-Ed has only been beaten by Windhoek Gymnasium and WHS this season and will remain a tough proposition to any team that will still face them, because they have a chance to qualify for the Super League stage. In my view, Pro-Ed's inside centre and fullback were particularly impressive on the day."
• At Outjo, the home side OK Foods Moria Private School were beaten 12-31 by the defending champions KMC/JCC Windhoek Affies.
The winning team scored five tries without conceding any, as the Outjo Bears could only muster four penalty goals.